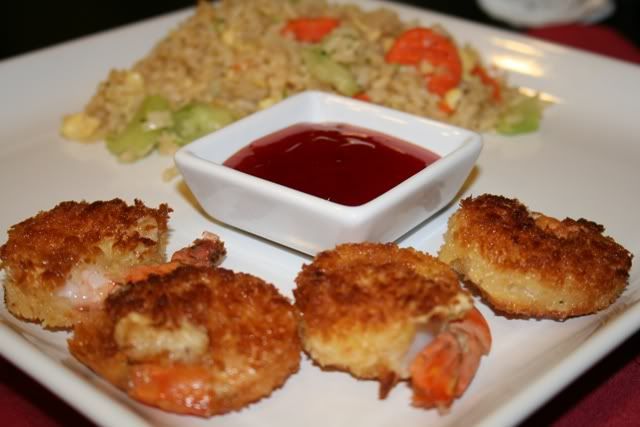 I found
this
Panko shrimp recipe on Savory Safari, and while she was daring enough to make her own sweet and sour sauce, we just settled for some yummy red La Choy sauce. So then I needed a fried rice recipe to go with it and found
this one
from Joelen's Culinary Adventures.
This has quickly become a favorite in our household. It's honestly better than going out to a restaurant.
Fried Rice:
1 cup leftover meats - pork, chicken, beef, seafood (I left this out, but added more veggies than it called for)
1-2 eggs
3-4 cloves minced garlic
1/2 onion finely diced
3-4 tablespoons vegetable oil
1 cup chopped vegetables (fresh or frozen)
salt & pepper to taste
1/2 tablespoon onion powder
1/2 tablespoon garlic powder
1-2 tablespoons light or dark soy sauce
1-2 cups prepared rice, cold (or day old)
In a hot skillet or wok, heat oil.
Add garlic and onions & stir.
Add leftover meats of your choice, chopped up in bite sized pieces.
Stir fry meats until you get them a bit crispy.
Push the meats aside and crack eggs into the pan.
Scramble the eggs into the pan until cooked.
Add cold rice over the eggs & meat into the pan, making sure to crumble it in your fingers. (Dumping a large chunk of rice is not going to work here. You need to crumble it so it separates nicely).
Add salt, pepper, onion & garlic powders and soy sauce; toss.
Allow the rice to heat up and absorb the spices and soy sauce, tossing to help it along.
Add the fresh or frozen veggies and toss into the rice.
Continue cooking it all on high heat until rice is heated through and veggies are cooked.
Panko Shrimp:
Canola oil to cook
Salt and black pepper, to taste
12 large shrimp, peeled and deveined
1 cup all-purpose flour, in a shallow dish
2 eggs, beaten, in a shallow dish
1 cup panko, in a shallow dish
Directions
1. Season the shrimp with salt and pepper. Dredge shrimp in flour, then egg, then panko.
2. Heat oil until shimmering and a sprinkling of flour sizzles and immediately dissolves. Fry shrimp until golden brown, about 3 to 4 minutes total, turning once. Drain on paper towels.