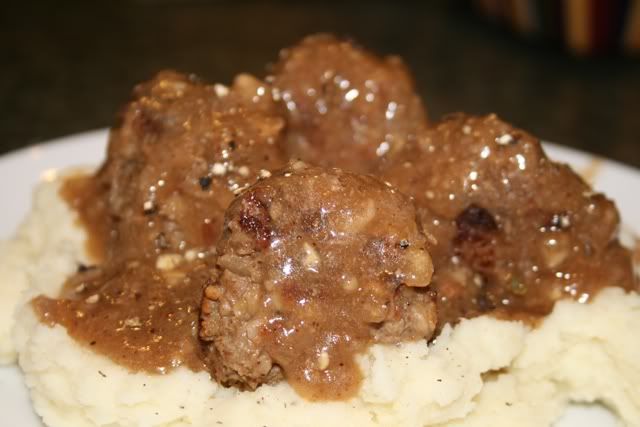 I made these so long ago, I honestly can't remember when it was. I was procrastinating posting it because well honestly, I didn't think they looked very nice. But gosh darnit...they were tasty! So a blog entry they rightfully deserve! This recipe is from my father-in-law, and while I'm not typically a fan of balls of meat, I do enjoy these.
Traditional Meatballs with Gravy
1lb hamburger
1/2 c bread crumbs
1/4 c milk
2 tbsp onion
1 tsp salt
1/2 tsp Worcestershire sauce
1 egg
Mix all the ingredients together in a large bowl. Create balls a little smaller than a golf ball. Cook over medium heat for about 20 minutes. Remove from pan and set aside.
Add about 1 cup of beef broth and 1 tbsp cornstarch. These amounts are approximate- but it is simply to make gravy- so just add until you get a consistency you like.
Notes: Ok- we doubled the recipe and froze half of the meatballs with our food saver...the next post shows what we did with them.