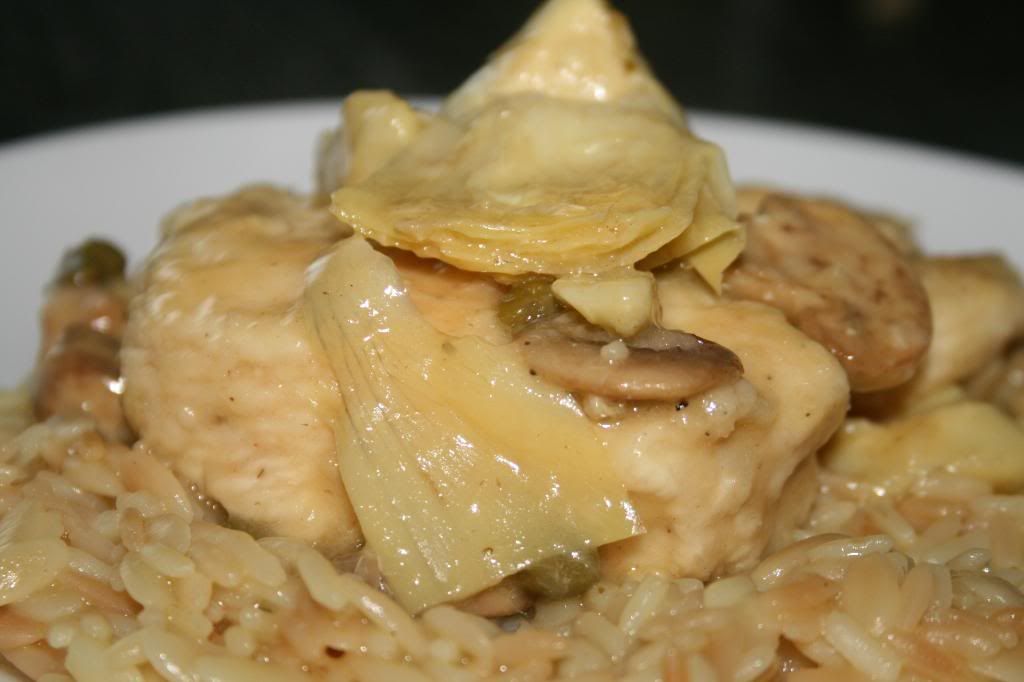 Ok, so this week I was making Carl "feel at home" by making all the dishes he used to have at his parents' house. His dad normally cooks and so I stole all his yummy recipes!! (These are actually out of order, because I'm blogging in multiple places...and only have certain recipes here)
Wednesday's Meal: Chicken Piccata
So- apparently somewhere between my in-law's place and ours, I lost my instructions...so I just kind of put this together by looking at a couple recipes from Food Network and All Recipes that reminded me of what my father-in-law said. It turned out fabulous if I do say so myself though!
INGREDIENTS
-1 cup all-purpose flour
-1/2 teaspoon paprika
-1 pound skinless, boneless chicken breast halves - cut into thin square-like -1/4 cup olive oil
-1/4 cup lemon juice
-1/2 cup chicken stock-
1/2 cup white cooking wine
-1/2 teaspoon garlic powder
-1 (14 ounce) can artichoke hearts, drained and quartered
- 1 small can of mushrooms
-2 tsp capers
DIRECTIONS
1. In a shallow bowl, mix together flour, paprika, and salt and pepper. Dredge chicken pieces in the seasoned flour.
2. Heat oil in a large skillet over medium heat, and saute chicken until light golden brown (about 2 minutes each side). Remove chicken from skillet, and set aside.
3. To skillet, add mushrooms, lemon juice, wine and chicken stock. Simmer until a smooth, light sauce develops. Season with garlic powder. Return chicken to the skillet, and simmer until chicken is no longer pink and juices run clear. Stir in artichoke hearts and capers, simmer for about 2 minutes. Remove from heat and enjoy!
Notes: This easily will feed 4 people. I served it over a bed of rice pilaf which is the perfect complimentary dish! I plan on just having the leftovers for dinner tonight. Super delicious. And when I said to Carl- it's good, but it's not like your dads. He said- yeah, but I think it's better! Woo HOO for me!