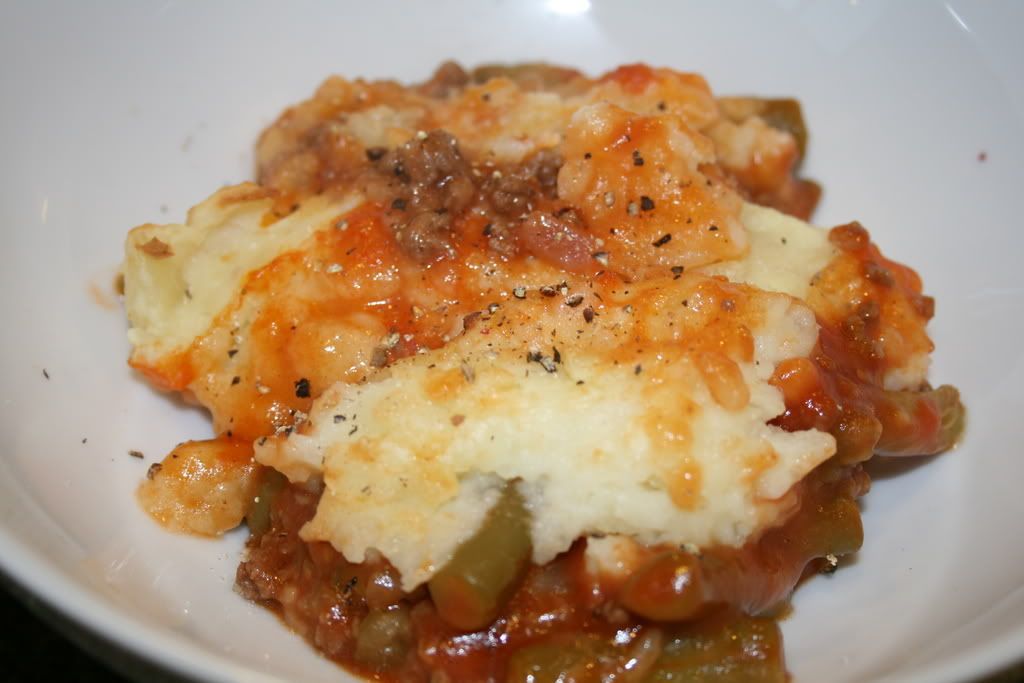 1 lb ground beef
1 small onion diced
1 large can of tomato soup (regular can works too...)
1 can green beans
1 can corn (really you can use whatever vegetables you want, these are just my favorites and I always have them around)
Mashed potatoes for about 6 people (instant is ok too)
Salt/Pepper
Other spices (you'll see my suggestions below)
Make the mashed potatoes. Heat the oven to 350. Brown the ground beef and throw in the onion. Drain the beef. Feel free to add whatever spices you have laying around- I like garlic powder and chili powder but really...whatever you've got. And season with salt and pepper! And of course a package of onion soup mix is always approved per monica if you really want it.
Spread the beef into a 9x13ish casserole pan (i use my pampered chef deep dish baker- because it is biiiiig). Then spread the uncooked green beans and corn over that. Then poor the tomato soup over the entire thing and add about a half a can of water to make sure the whole thing has some juicy goodness going on. Top with the mashed potatoes over the top and bake for about 25 minutes or until the edges start to get brown.
I really love this casserole...but definitely add the salt and pepper- it needs it! As you can see...I really don't have set amounts. We'll call this Shelly Cooking...or grandma cooking. My sister gave me an actual recipe but I used it like 2 times and then never needed it again. You can blame me if it turns out bad...but I haven't had that happen yet.