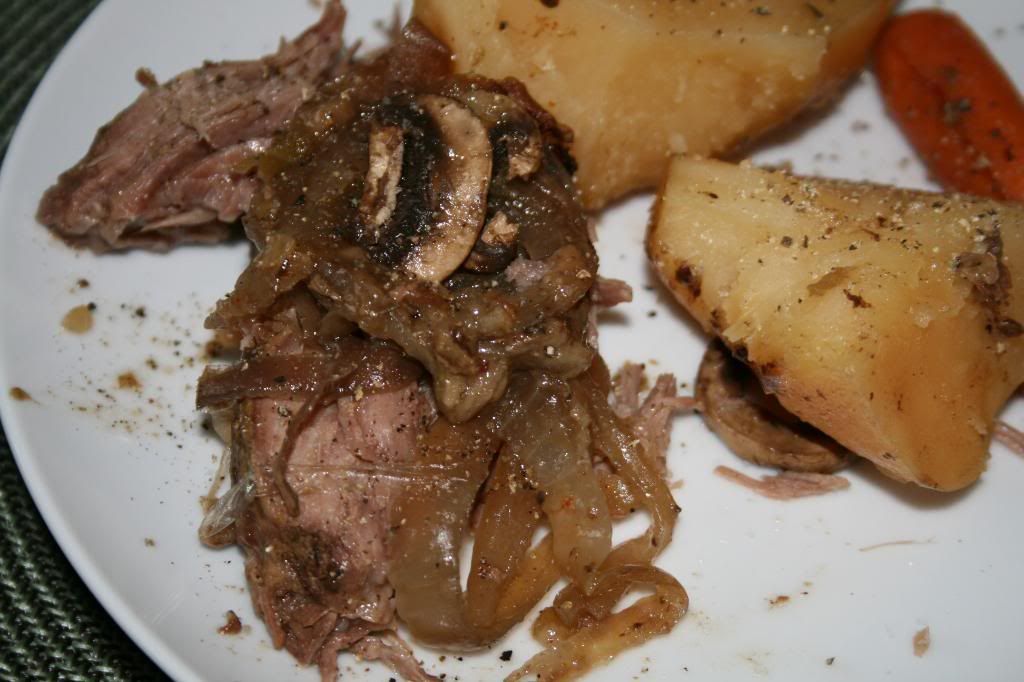 So I had that other half of the roast we had last week hanging out in the freezer. I decided to thaw it out and cook the other beef recipe that looked good in my Crock Pot cookbook. They've deemed it "America's Favorite," but I think it needs more seasoning. Both Carl and I agree that next time I will either add a package of onion soup mix (thanks Mon) or coat the top with mustard. But all in all....this was a good, tender pot roast!
3 1/2 to 4 pound boneless pot roast
1/4 cup flour
2 teaspoons salt
1/8 teaspoon pepper
3 carrots, pared, sliced lengthwise and cut into 2-inch pieces
3 potatoes, peeled and quartered
2 small onions, sliced
1 stalk celery, cut into 2-inch pieces
10 button mushrooms, sliced
Trim all excess fat from roast; brown and drain if using chuck or
another highly marbled cut. Combine 1/4 cup flour, the salt and pepper.
Coat meat with the flour mixture. Place all vegetables except
mushrooms in Crock-Pot and top with roast (cut roast in half, if
necessary, to fit easily). Spread mushrooms evenly over top
of roast. Cover and cook on Low for 10 to 12 hours.
Servings 4
Notes: So what did I do different? For starters, my roast was only 2lbs, so I cut the cooking time to about 6.5 hours. It was well done at that point, still very tender, but well. Next time I will start checking it at 5 hours. I dashed the top with thyme and paprika, but again, next time I'll add onion soup mix or coat the top with mustard- I think either will do the trick to give it a little kick! Lastly, don't forget the salt and pepper to taste...it needs a little more oomph.