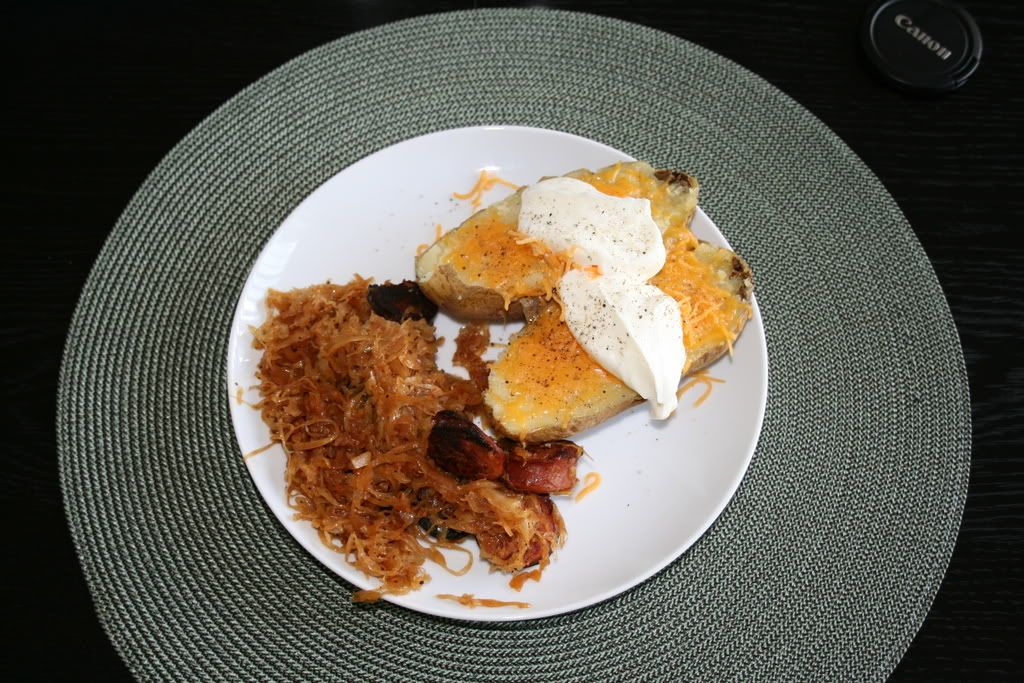 So tonight had to be quick and simple. I was just planning on having leftovers, but Carl was actually able to stay home longer than expected before leaving for work...so that meant another new meal. This isn't very exciting, but the thing I like about it is that the ingredients will stay good in your pantry/fridge for a long time. So it's a good meal to having "laying around."
Ingredients:
1 package of Polish Kielbasa
1 small can of sauerkraut
1 tsp of chili powder
Instructions:
Slice the kielbasa to 1/4 inch thick pieces and fry in a pan until they start to darken up. (I personally like it more on the burned side, but obviously, however you like it is how you should cook it) Drain about half of the grease and then add the contents of the sauerkraut can and top with the chili powder. Cook on medium heat for about 10 minutes. You'll know its done because the sauerkraut will start to have a cararmel brown color. I served this with my quick loaded baked potatoes (poke holes in the potato and stick in the microwave for 7ish minutes= perfection). If you serve it alone, it will feed about 2 people, give it a side dish and serve more like 4.
My notes: I've decided that sauerkraut is my beer. It's an acquired taste, but after trying it a few times I fell in love. I'm not sure which I like more, the smell or the taste. BUT if you don't like it...clearly you are not going to like this meal. If you do...yum!